Timeliner
The Navisworks Timeliner script for 3ds Max enables you to play simulations of Revit files created in Navisworks inside 3ds Max.

These simulations typically show construction sequences of buildings where parts of the building appear over time. Once a simluation has been imported into 3ds Max you can add additional animation and render it into an animation.
You create timeliner tasks in Navisworks. Each task has a start- and enddate. Tasks can be structured in a hierarchy but also in a flat list.
Each task can have a task type assigned. Finally a task can have objects attached to it. A set of tasks make up a simulation.
You can play and render this simulation in Navisworks. However, the rendering and visualisation options in Navisworks are pretty limited .
This script will bring your simulation into 3ds Max and give you the opportunity to add camera motion, custom lighting and leverage the visualisation power of 3ds Max. See below for a simple example of a Navisworks simulation brought into 3ds Max


The power of the script is the simple click workflow, saving you a tremendous amount of working it is to manually recreate the simulation inside 3ds Max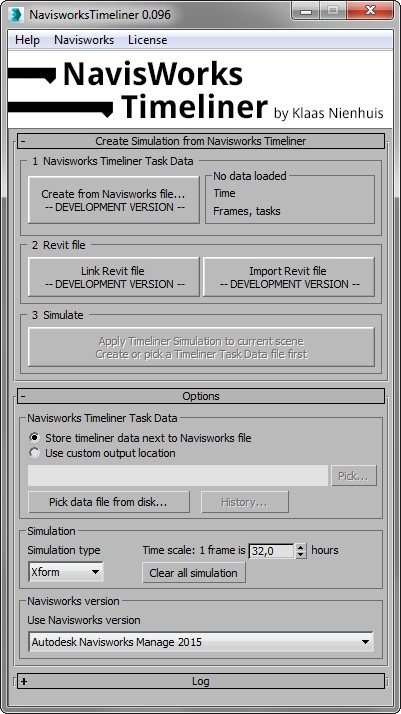 The Script comes with a professional manual and support website
Leave a comment
Make sure you enter all the required information, indicated by an asterisk (*). HTML code is not allowed.